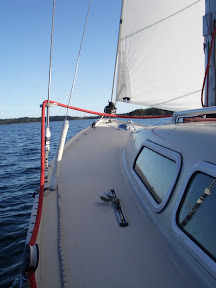 After a grey morning it was nice to find sunshine as we headed out from Karlslunds. The wind was light and on the nose... just nice a gentle sail for the season's premier.
It turned fluky as we beat up to Havtornsudde and the main channel, but steadied for a comfortable close reach all the way across the sound. The sun is warm, but the wind is chilly on the fingers.
West towards Mysingen the horizon was grey... fog on the way, creeping closer, swathing the islands and swallowing them up.
But it was still clear and fine as we furled the jib, and dropped the main to motor in to the narrow entrance.
Inside there were just four boats, all moored to shore on the south side in the late afternoon sun. So we were alone as we dropped the anchor and nosed in to the shaded shore on the other side...
The boat is soon shipshape and we decamp to the shore laden with the grill & all the essentials. Experience says it's a short walk through the woods to the sunny side - and fine views out over the sound.
As the coals got started we watched terns fishing from the rocks as the sun slowly set into the fog still spreading out towards us. ..and to the east more fog coming, from over Ornö behind us. As the lamb cooked the far shore disappeared and then island after island -until, as the fruit kebabs sizzled, even the horizon was gone.
Still, silent, calm... the glassy water indistinguishable from the grey sky beyond. Far from Stockholm in another world, obscured from view...
..................
12/13 May 2007
Karlslunds to Kolnäsvik: 9.5nm round trip.
Variable S-SE 3-5 m/s
Check where we went on
the map
...